The Meteor 
A self-heating, vibrating, massage therapy ball  developed by researchers, health practitioners, engineers and professional athletes. The Meteor is designed to facilitate muscular recovery and help reduce chronic pain.
Prevent Injury

Improve Athletic Performance

Relieve Pain

Accelerate Muscle Recovery
What Does MyoStorm's Ultra-Soothe Vibration do for your body?
Reduce Pain
Do you remember the last time you bumped your head? Your first reaction was probably to start rubbing the spot that you bumped. That's because stimulating the mechanoreceptors in your skin helps block pain signals and provides a soothing effect! Vibration therapy (at the right frequencies and amplitudes) can produce the same effect but significantly amplified. This phenomena is called "Gate Control Theory".  
The vibration from the Meteor is perfectly calibrated to help reduce pain with lasting effects. 
Increase Blood Flow
The specifically calibrated levels of vibration of the Meteor have been shown to promote blood flow. Increasing blood flow not only helps to relax and soothe muscles, but it helps accelerate recovery. 
When used as a warm up tool prior to physical activity, the Meteor helps improve athletic performance as well as reduce the risk of injury. 
Reduce Muscle Stiffness
In addition to stimulating the nerves in your skin, vibration at the right frequencies can also stimulate your bodies central nervous system.  This helps "wake up" your bodies natural healing process, speeding up recovery and relaxing your muscles. This is the same reason that cat purrs and monks saying "oms" is therapeutic... both create vibrations that stimulate our central nervous system! 
The Meteor has been shown to reduce muscle stiffness by 50% in only 30 seconds of use. 
The Meteor is the only self-heating massage ball in the WORLD.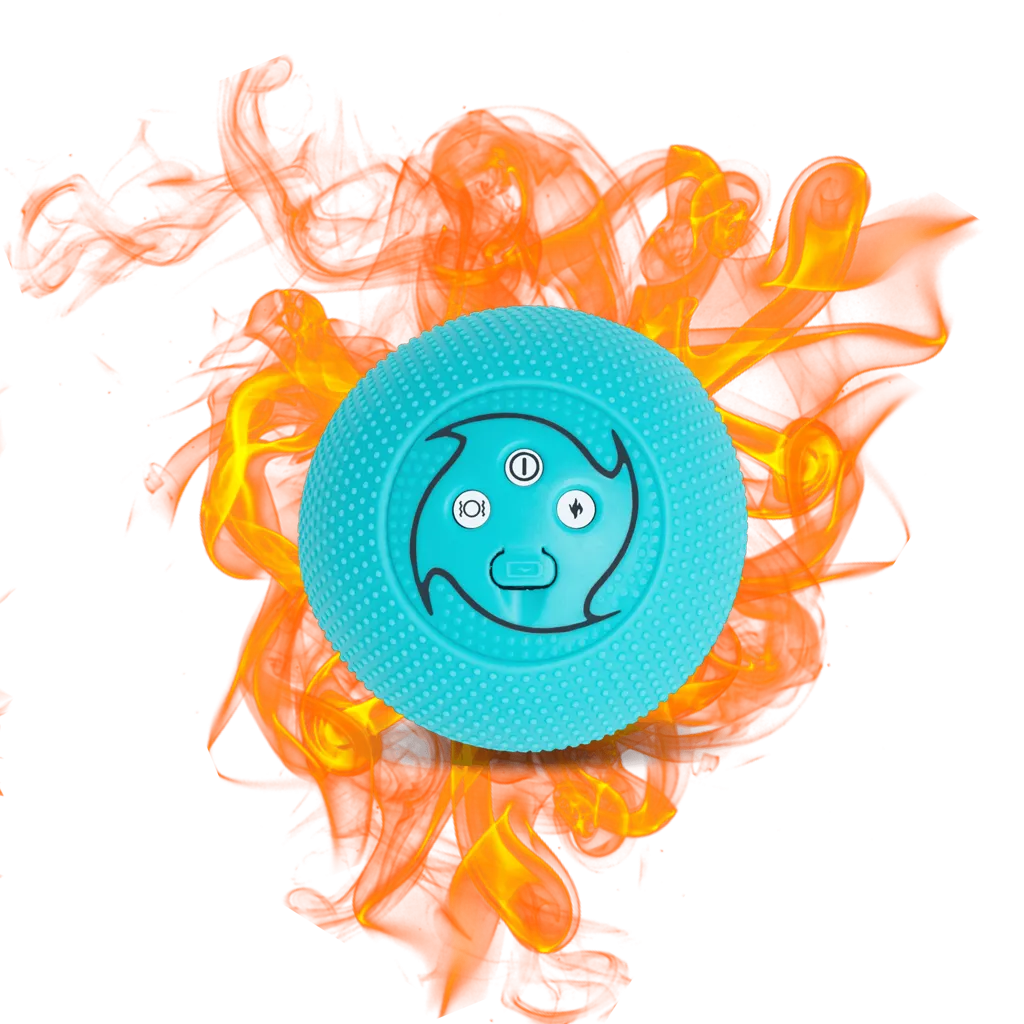 The Meteor delivers a deeply therapeutic 120F with the touch of a button.
Unlike most other heated massage balls that require the use of a microwave, the Meteor's heat can go with you anywhere. In addition to feeling soothing and relaxing,The Meteor's heat accelerates the delivery of healing enzymesand carries away the negative byproducts of recovery in muscles,speeding up your recovery and pain relief.
The Meteor is the worlds most effective and versatile tool for rolling out.
But what is rolling out and why should you be doing it?
Think of rolling out your muscles as a way to get some of the benefits of adeep tissue massageon your own (without the need of a massage therapist).  Rolling out has been shown to have many benefits including, reducing muscle tension and increasing range of motion. As a result, rolling out has become a daily recovery routine for millions of people around the world. With it's perfect size and the addition of heat and vibration,the Meteor takes rolling out to a whole new level!
No matter what type of pain you are experiencing, the Meteor's got you covered.
Plantar Fasciitis

Plantar Fasciitis and foot pain is caused by tightness of the muscles and ligaments in the calves and feet. The Meteor is the perfect shape to roll out your feet and the soothing heat and vibration loosens, relaxes and relieves the tension better than any other tool.  Hundreds of individuals have found instant relief from years of foot pain with the Meteor.
Back Pain

The Meteor is ideal for soothing hard to reach back pain. Target knots by rolling out on the Meteor, or get a full spinal stretch session by combining the Meteor with the 3-in-1 recovery roller.
Neck Pain

Many devices like massage guns are too aggressive to use on the neck and are difficult to reach. The Meteors shape and size makes it easy to use on the neck and has vibration and heat levels that are calibrated to be soothing and comfortable, even on sensitive areas like the neck. 
Knee Pain

The Meteor can be used to help relieve most joint pain such as knee pain, elbow pain, shoulder pain and hip pain.  Because of it's pain relieving properties the Meteor helps prevent muscle guarding and encourages the proper motion of joints which can lead to much faster recovery times!
Arthritis

The gentle vibrations and soothing heat from the Meteor help reduce arthritic pain and improve blood flow which can accelerate your bodies healing process. 
Sciatica

Improved blood flow and stimulation of the central nervous system from the Meteor's heat and vibration help relieve sciatica pain.
Muscle Knots

The Meteor is great for everyday aches and pains and muscle knots that you can get from working out, or just sitting at a desk all day. It's size and versatility make it easy to use anywhere for any type of pain!
30 Day Satisfaction Guarantee
At MyoStorm we want to make sure that our products are actually helping you recover. We are confident that you will love the Meteor, however if you don't, we will refund the Meteor at full cost within 30 days of purchase.
All MyoStorm products have a 1 year manufacturer warranty.
Ultrasoothe Vibration Technology 

Up to 8 hours of Total Battery Life & USB-C Charging

Patented

Heats up to 120° F

Four Vibration Levels

Ideal Size & TSA Approved
Meteor Mini
Regular price
Sale price
$99.00 USD
Unit price
per
Sale
Sold out
View full details
Meteor 2.1
Regular price
$139.00 USD
Regular price
Sale price
$139.00 USD
Unit price
per
Sale
Sold out
View full details